The South Shore Blueway Trail
The South Shore Blueway Plan is made possible by the Village of Freeport, a Local Waterfront Revitalization Grant from the New York State Department of State under Title 11 of the Environmental Protection Fund and the Nassau County Environmental Bond Act.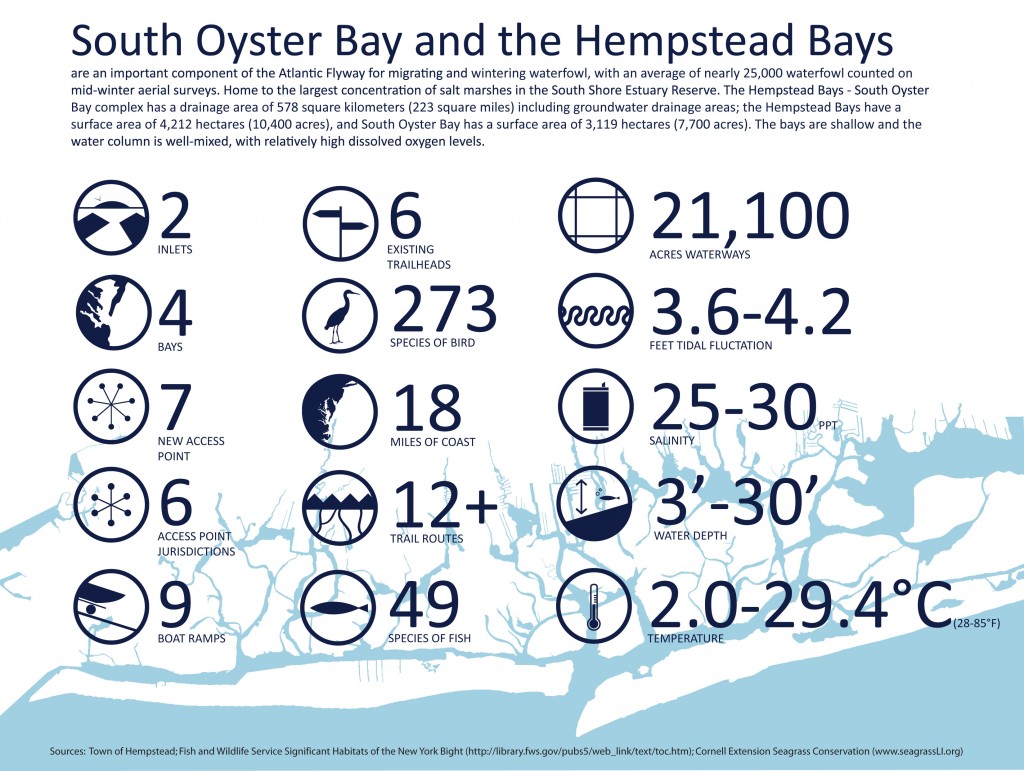 The South Shore Blueway Trail is a safe, legal network of water access points for human-powered boats and beachable sail craft, which allows people to experience the natural, scenic and cultural wonders of Long Island's South Shore, while protecting wildlife and habitat and the safety of trail users and all mariners.
The South Shore Blueway Trail is consistent with recommendations of the South Shore Estuary Reserve Comprehensive Management Plan by enhancing public use and enjoyment of the estuary and promoting public stewardship through increased education and outreach.  In addition to its recreational value, the South Shore Blueway Trail will benefit area businesses as it attracts visiting paddlers from across Long Island and the region. Equally important, the new Blueway Trail will promote environmental stewardship, a healthy lifestyle, and safe use of local waterways.
The project was approved as part of the 2006 Nassau County Environmental Bond Act Program. In 2008, the Village of Freeport joined with Nassau County and obtained matching funds from a Local Waterfront Revitalization (LWR) Grant from the New York State Department of State under Title 11 of the Environmental Protection Fund.
The South Shore Blueway Trail provides safe recreation where families and groups can explore the natural beauty and cultural wonders of Long Island's south shore —easily accessible by all. The trail highlights community connections between people and places, thus encouraging residents and visitors to enjoy recreational, educational and scenic experiences that encourage environmental stewardship, promote healthy lifestyles and are sustainable. As a regional trail, the South shore Blueway Trail will improve quality of life, yield economic benefits to local communities, and enhance environmental quality, in particular water resources. An overarching goal is for the blueway trail to be expanded across the South Shore Estuary Reserve and for the trail to be recognized as a National Recreational Trail system—and recognized for local and regional significance—thereby increasing prospects for funding trail implementation.
Recreation – meeting the recreation needs of diverse populations and people of all abilities
Safety – ensure safe and appropriate recreational use
Education – foster learning through real world experience
Conservation and Stewardship – leave no trace, preserve natural areas
Community Connections – connecting people and places, engaging partners
Healthy Communities – help people become healthier
The South Shore Blueway Trail spans the southern coast of Nassau County encompassing the western bays of the South Shore Estuary Reserve (SSER), comprised of West, Middle, and East Hempstead Bays and South Oyster Bay. From the western border of the Town of Hempstead the project area stretches 18 miles to the Nassau/Suffolk County line at South Oyster Bay. One of the largest undeveloped coastal wetlands systems in New York State, the large complex of shallow, interconnected bays is separated from the Atlantic Ocean by Jones Beach and Long Beach barrier islands. Two openings separate the barrier islands and connect the bays with the ocean at Rockaway Inlet and Jones Inlet. Hundreds of acres of tidal wetlands, barrier beach and back-°©‐barrier lagoon, creeks and channels, marshlands, mudflats, and salt marsh islands characterize the south shore region. The area supports a diversity of fish and wildlife providing vital habitat for migratory shorebirds, wintering waterfowl and finfish. South Oyster Bay and the Hempstead Bays are on the Atlantic Flyway, a major bird migration route. Multiple species of seals winter in the bays. The South Shore Blueway Trail spans the Town of Hempstead and Town of Oyster Bay,the Village of Freeport and the City of Long Beach, Jones Beach Island, and several other villages and hamlets.
A Blueway Trail is a water path for non-motorized boats that combines recreation and environmental awareness while linking communities and land-based attractions such as parks, historic sites and natural areas.
Water trails offer numerous benefits enabling people to rediscover the coast by connecting to places to stop and take-out. Creating a blueway provides a venue to promote stewardship and support existing local and regional conservation, recreation and restoration efforts. The trail passes by scenic, historic, and environmentally interesting points of interest making it possible to come ashore and visit these upland attractions or recreational facilities. It allows people to see the local environment up close while providing a new recreational corridor to attract visitors, without negatively impacting the natural ecosystem. Paddler recreation and tourism can positively impact local economies through the enhancement and promotion of existing coastal resources.